As your District Attorney, I am committed to preventing and prosecuting crimes of human trafficking while treating victims with dignity and compassion. Please get help for yourself or a suspected victim from the National Human Trafficking Resource Center toll free, 24/7 Hotline:
CALL 1-888-3737-888 or TEXT to BeFree (233733).
Summer Stephan
District Attorney, San Diego County
What is Human Trafficking?
Human trafficking is a form of modern-day slavery where perpetrators profit from the sexual exploitation and/or forced labor of men, women and children. It is a violation of basic human rights, and it is also a crime as defined by U.S. federal law and California state law.
Sex trafficking is the exploitation of a person by means including coercion or deceit to engage in commercial sexual activity, prostitution, exotic dancing, or pornography. (When the victim is a minor under the age of 18 years old, sex trafficking does not require force or coercion. Minors cannot legally consent to sexual activity)
Labor trafficking is the exploitation of a person by means including coercion or deceit for labor services. Labor trafficking victims are often forced into domestic servitude, construction, restaurant, agricultural, massage parlors, or sweatshop factory work with little or no pay.
Human trafficking does not require that a victim be moved over state or international borders. Human Trafficking is also a domestic issue inside CA state and San Diego County.
San Diego was identified by the FBI as of the top 13 high intensity child prostitution areas.
Who are the Victims of Human Trafficking?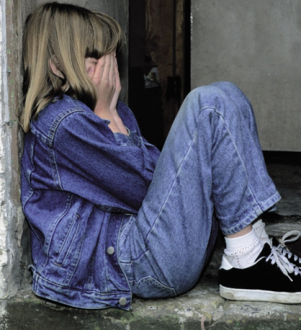 Identifying victims of human trafficking can be difficult because traffickers often isolate victims from their families, communities, and the public.
Victims of human trafficking include children, women and men.
Victims of human trafficking can be domestic or foreign to include U.S. citizens and legal residents, or foreign nationals including those legally documented or undocumented.
Victims regularly include runaway youths solicited and recruited for prostitution and other forms of sexual exploitation.
Victims often have backgrounds of child abuse/domestic violence, but do span every socioeconomic and family background.
Who are the Perpetrators of Human Trafficking?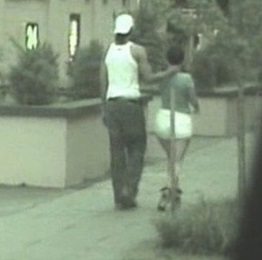 Perpetrators of Human Trafficking under both federal and state law are those who:
Attempt to induce or persuade a child or minor under the age of 18 to engage in prostitution, pornography or other forms of sexual exploitation.
Deprive or violate the personal liberty of anyone 18 or above through means including coercion, duress or deceit to engage the victim in prostitution, pornography or other forms of sexual exploitation.
Deprive or violate the liberty of anyone under or over the age of 18 through means including coercion, duress or deceit to obtain forced labor or services.
Perpetrators include family members, boyfriends, peer recruiters and organized criminals and gangs.
What are the warning signs of human trafficking based on sexual exploitation of a Minor?
Parents, teachers, employers, counselors, nurses, doctors, other professionals and friends of trafficking victims are often unaware of the abuse that is happening right in front of their eyes. For warning signs: Read More
What has the San Diego DA's Office done to fight human trafficking?
District Attorney Bonnie Dumanis formed the Sex Crimes and Human Trafficking Unit with specialized prosecutors, investigators, paralegals, victim advocates and staff to combat human trafficking on all fronts: Detection, Prevention, Education and Prosecution. (Sex Crimes and Human Trafficking Unit: 619-615-6426)
Promoted Awareness and Prevention through implementation of the Posting Law (SB1193) and the adapting the ProtectSanDiegoKids.org Billboard campaign that originated by the Alameda DA's office.
How to Prevent Human Trafficking
What Can You Do?
Become aware and educate yourself as to the facts and myths of human trafficking.
Save the human trafficking hotline in your phone and post it on any social media that you use to inform others.
Report suspected human trafficking activity by calling 1-888-3737-888 or texting BeFree (233733).
Place the human trafficking poster in your place of business to spread awareness.
Stop the demand for sexual and labor exploitation that constitutes the profit that drives human trafficking, i.e. buying sex, buying cheap labor.
Educate yourself on the warning signs and red flags of human trafficking.
Support legislation that holds perpetrators accountable and promotes dignity for victims.
Support and encourage your local schools to educate their teachers, counselors, health providers and staff about this topic.
Support and encourage your local schools to educate children about this topic so they can avoid the pitfalls or ask for help.
Encourage your civic or faith based organizations to become educated and educate their members about human trafficking.
Support victims of human trafficking through welcoming them into our communities and directing them to the professional resources available.
Safety Tips
Be Smart Online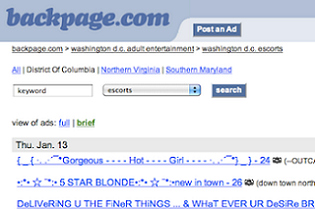 Traffickers are reaching more victims and customers by recruiting and advertising online. Social media and internet enabled devices including cell phones have allowed traffickers to reach our children and vulnerable teens and adults. It has also allowed traffickers to expand the customer/demand base that increases the profit and fuels human trafficking.
The internet is the biggest platform that traffickers, johns, and pimps use for purchasing and selling their victims in the United States. The women and children advertised online for commercial sex appear as if they are working independently, however more often than not, they are actually victims of human trafficking.
How can you protect yourself and your family?
Don't talk to unknown or unfamiliar people.
Don't post any personal information on your Facebook that you would not want strangers to see online.
Don't believe claims by disguised perpetrators that they are photographers, producers, and others who will make you famous.
Don't accept invitation to "parties" of anyone not in your trusted circle and always let a parent or friend know where you are going.
Don't be lured by lines commonly used to lure victims like "You're pretty. You could make some money," "I'm here for you", "it is you and me against the world", "just do this one thing for me so we can pay the bills", "I'll take care of you".
For More tips and information regarding internet safety, please visit:
Protecting Kids Online
National Center for Missing and Exploited Children
Info from the NHTRC
Overview
The National Human Trafficking Resource Center (NHTRC)/Polaris Project is supported by the U.S. Department of Health & Human Services and began operating a 24-hour, 7 day a week, toll-free hotline in 2007 and continues to do so. Call Specialists can connect victims with law enforcement and social service providers in their local area who can help them get out of exploitative situations and into safe environments where they have access to services, such as emotional support, health care and legal services.
In order to get help for yourself or someone else or to report activity that may be related to human trafficking:
Call the toll free hotline number 1-888-3737-888 OR
Text "Help" or "Info" to BeFree (233733)
Read More
Signs of Human Trafficking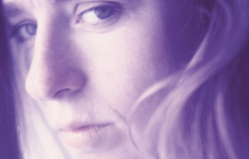 Human trafficking can happen in a variety of environments including cities, suburbs, and wealthy/low income areas. Even within the daily routines of community members, they often come by labor and sex trafficking situations and they don't even know it. The majority of victims don't self-identify that they are the victims and/or are not aware that they can receive help. Read More
Who to Contact
Contact Information
National Human Trafficking Resource Center:
Call: 1-888-373-7888
Text: BeFree (233733)
Victims of human trafficking can be anyone, including men, women, children, adults, foreign nationals, or U.S. citizens. If you believe that you or someone you know is a victim of human trafficking, help is available. It is available 24 hours a day, 7 days a week. Making that phone call will provide you with help, referral to services, training, and more general information.
REMINDER: If you or someone else is in immediate danger, CALL 911 or YOUR LOCAL POLICE.
Other Contacts
DA victim witness number
1-619-531-4041 (8:00am-5:00pm, Mon-Fri)
Countywide Crisis Line
1-888-385-4657 (24/7)
Community Resources And Initiatives
The San Diego City Human Relations Commission initiated a county wide effort with the help of the San Diego District Attorney's Office, Sheriff, police, victim services and community based civic and faith based groups to implement a new law that required the posting of certain information about human trafficking and the human trafficking hotline at required establishments. You may visit their website to learn more about the commission and the commissioners who serve it at humanrelationscomm@sandiego.gov.
Senate Bill 1193, enacted April 1, 2013 added Section 52.6 to the Civil Code. This new law requires specified businesses and other establishments to post a notice informing the public and victims of human trafficking of telephone hotline numbers to seek help or report unlawful activity.
Posting Notice
The locally designed poster offered below is being provided for your convenience and includes all three posting languages condensed into one easy to use notice. Alternatively, the Attorney General's Office for the State of California has also created a model template which can be found on their website: Office of the Attorney General.
Locally Designed Posting Notice
The posting notice below is available in two print sizes, both 8.5 x 11 and 11×14. The 11×14 notice should be printed on 11×17 paper and can be trimmed to down to 14 inches.
Businesses required to post
Adult or sexually oriented businesses
Bus stations
Business or establishments that offer massage or bodywork services for compensation
Emergency rooms within general acute care hospitals
Farm labor contractors
Intercity passenger rail or light rail stations
On-sale general public premises licenses under the Alcoholic Beverage Control Act
Primary Airports
Privately operated job recruitment centers
Roadside rest areas
Truck stops
Urgent care centers
To find the Attorney General's model notice and more detailed information on the specific types of required businesses, please review the Attorney General's website at: Office of the Attorney General.
Posting Location
Posted in conspicuous place near the public entrance, or in another conspicuous location in clear view of the public and employees where similar notices are customarily posted.
Posting Dimensions
At least 8.5 inches by 11 inches
Written in 16 font
Posting Languages
Notices must be posted in English, Spanish and in one other language that is most widely spoken in the business or establishment's location. The following four languages, in addition to English and Spanish, have been identified by the Attorney General's Office for San Diego County.
Tagalog Chinese
Chinese
Vietnamese
Posters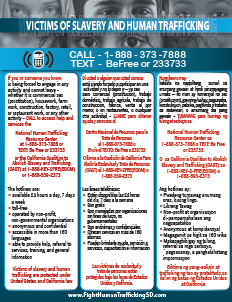 8-1/2 Inch by 11 Inch (Letter)
11 Inch by 14 Inch (Legal)
Billboard Campaign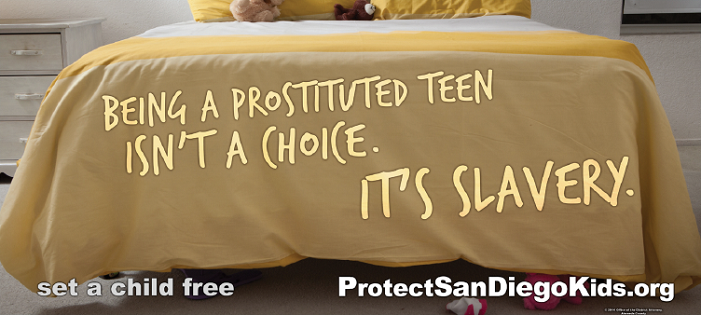 This public service campaign originated as ProtectOaklandKids, a collaborative effort of the Alameda County District Attorney's Office, MISSSEY, Clear Channel Outdoor and the original design team of Suzanne Boutilier, Genice Jacobs and Jed Davis. Photo credit: Tom Page.
© 2014 Alameda County District Attorney's Office